2 Castles, Tunnel & Ramp
Regular price

£112.00

Sale price

£106.00
Bundle including 2 castles, 1 tunnel & ramp - perfect for a fort!

Cosy's Castles are the perfect pet enrichment home to keep your bun entertained all day and somewhere to snuggle into at night.
The castles attach to the tunnel with wooden hooks that slot perfectly over the crenelations for a secure fit. The ramp can be attached to any part of the castles or tunnel so you can customise your set up!
You can also add your bunny's name to your castle and tunnel.
As with all our bundles, a discount is included in the price!
Dimensions

Castle 30 x 32 x 26 cm
Tunnel 26 x 36 x 21 cm
Materials
Shipping

Our dispatch policy is 7-14 days as all products are bespoke made to order.

UK shipping is 2-4 working days, please see our shipping page for international shipping times.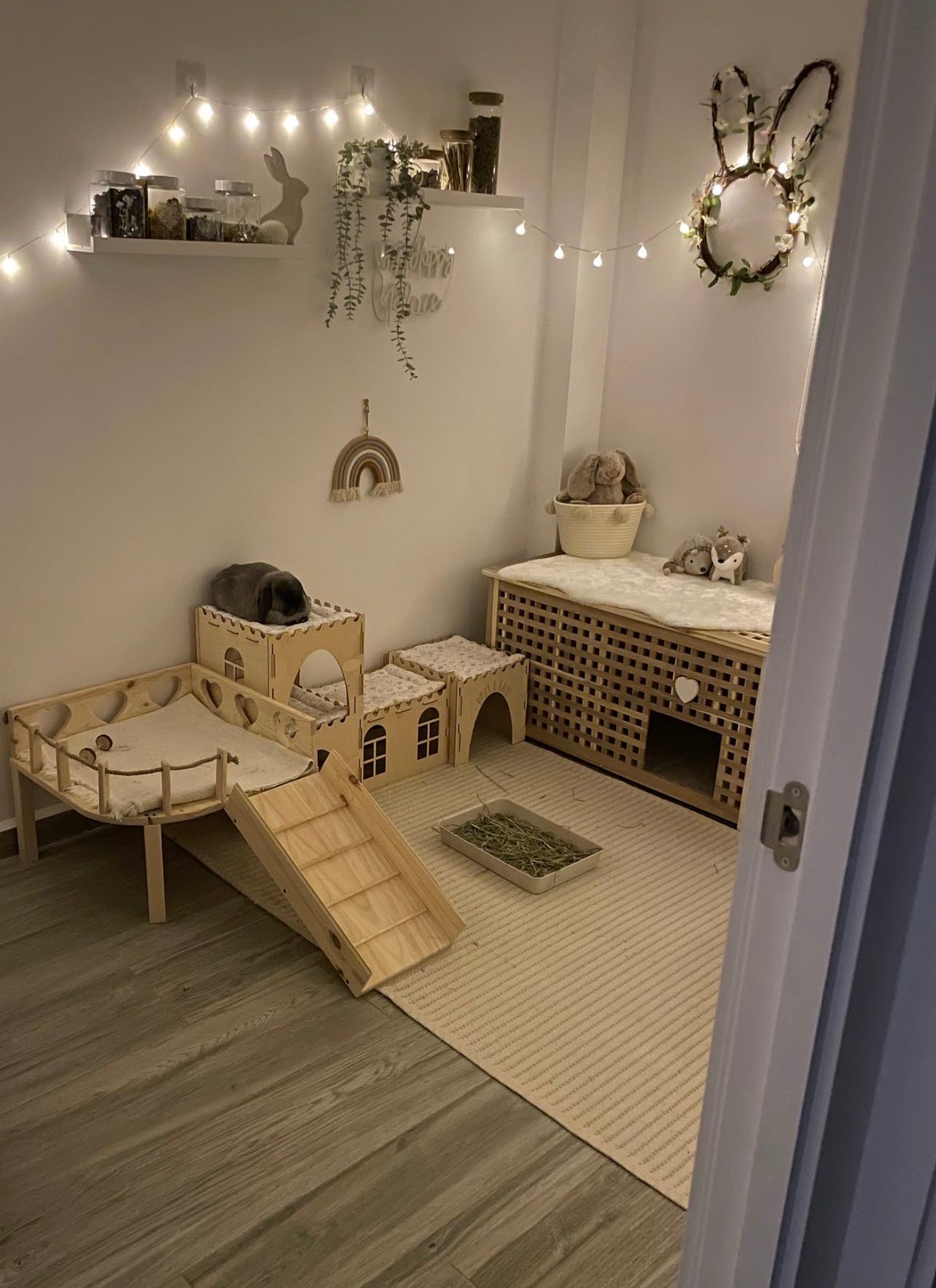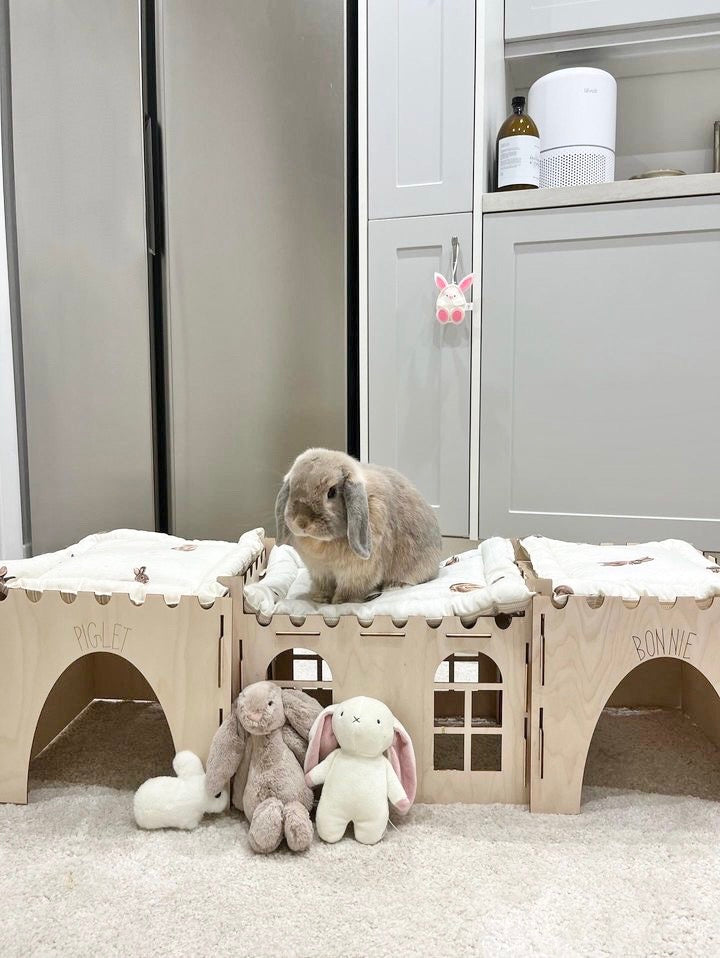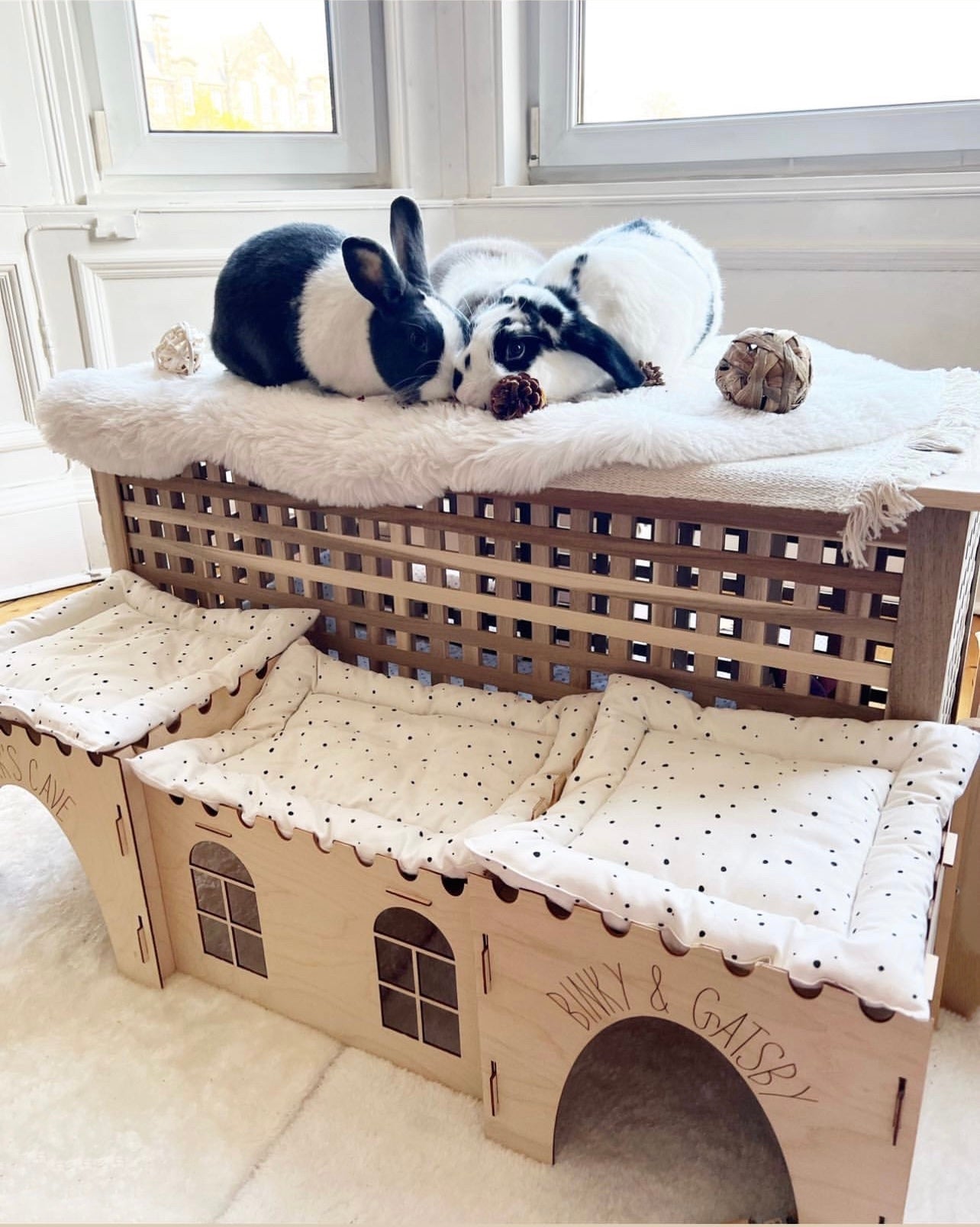 Cozy castles and tunnel
I do truly love the cozy castle and how my bunnies appreciate a cute place to hide! Also the shop owner was so kind and helpful when assisting me in ordering a custom sized cushion for the tunnel. I'm only removing one star as the top of the tunnel is constantly collapsing when my Holland lop Luna jumps on it. She's average but hefty. My other two bunnies are very petite for their breeds and they can jump on it no problem. I am wondering if there is a way to fix the top of the tunnel. Thanks!!!
Best decision ever made!
We could not give this product and business a better review!
Not only did they provide us with everything we wanted on the same day but also allowed us to collect it on the same day too!
Our boo absolutely loves her new home, anything we need for Boo we will always come here!
Thankyou for your advice, friendliness and even giving us links to other products you know of that you don't have yourselves at the moment!
"Please buy this for your bunny, it will make them so happy like me" - Boo 🐰
Bumble Bee Themed Castle Set
Ordered previously from the lovely girls at Cosy's Castles, ordered a bumble bee set of two castles, joining tunnel, hay rack and ramp. Absolutely in love with all the products the quality and how helpful, kind and caring the team are. Will pop over some photos of Lilo with his castle when it arrives! Thank you so much!
2 Castles, Tunnel & Ramp
Absolutely love this castle for our house bunny. Well made and love the way it all slots together. Great customer service and prompt email replies, thank you very much for all your help. Helen & Maple
FAQs
How do I build your items?

Our items come flat packed and can be assembled with no tools, simply slot the pieces together! It takes less than 2 minutes. They can then be disassembled for convenience when moving or for storage.
Will my pet use your castles?

Designed with small pet psychology in mind, our products have been thoughtfully designed and created so they very well loved and used by bunnies and pets! You will find as soon as they have one of our castles it becomes their new favourite place to hang out.

As small pets like bunnies are prey animals, having two entrances/exits is key to ensure bunnies feel safe inside- and it will become their go to space for eating and sleeping!
Can they easily chew the castles?

Our castles are made from birch plywood which is resistant to bunstruction- so even if bunnies have a good munch it may leave some marks, but the structure of the castle will not be affected. You can see our many reviews from customers who have owned our castles for many years!

Our birch wood is untreated and paint free making it completely pet safe.
Can you clean the castles?

As our wood is untreated to keep it pet safe, it is harder to clean if a bunny has an accident on it. However, we sell machine washable cushions perfect for the top of the castles to prevent any permanent stains!
What starter products do you recommend?

We recommend purchasing one of our single or double storey castles (personalised for some extra cuteness) with a cushion for a first time bun trying out our products!

This will give your bun time to see if they love their castles- which we guarantee they will, while also providing some protection to the wood with our cushions and giving extra comfort.

In future you can then purchase castles or tunnels to add on to your castle and build up your fort.

We would also always recommend for any first time customer trying out our best selling stacking cups- they are one of our most popular products for a reason, buns love them! They are one of the best toys for enrichment to enhance your buns meal times.