Double Storey Castle, Castle, Tunnel, Hay Rack & Ramp
Regular price

£164.50

Sale price

£164.50
Our biggest bundle yet! Including a double storey castle, a standard castle, tunnel, hay rack and ramp for a full fort. 
This bundle is ideal for 2 bunnies, giving plenty of space and enrichment with several levels for them to explore. You can also add some cushions for your fort, to make it even more comfy for you bunny.
You can also add your bunny's name to your castles and tunnel!
As with all our bundles, a discount is included in the price!
Dimensions

Double storey castle: 30 x 32 x 52 cm

Castle: 30 x 32 x 26 cm

Tunnel: 25.8 W x 36 L x 20.5 H cm

Ramp: 16 W x 40.5 L cm

Hay rack: 20 W x 12 D x 25 D cm
Materials
Shipping

Our dispatch policy is 7-14 days as all products are bespoke made to order.

UK shipping is 2-4 working days, please see our shipping page for international shipping times.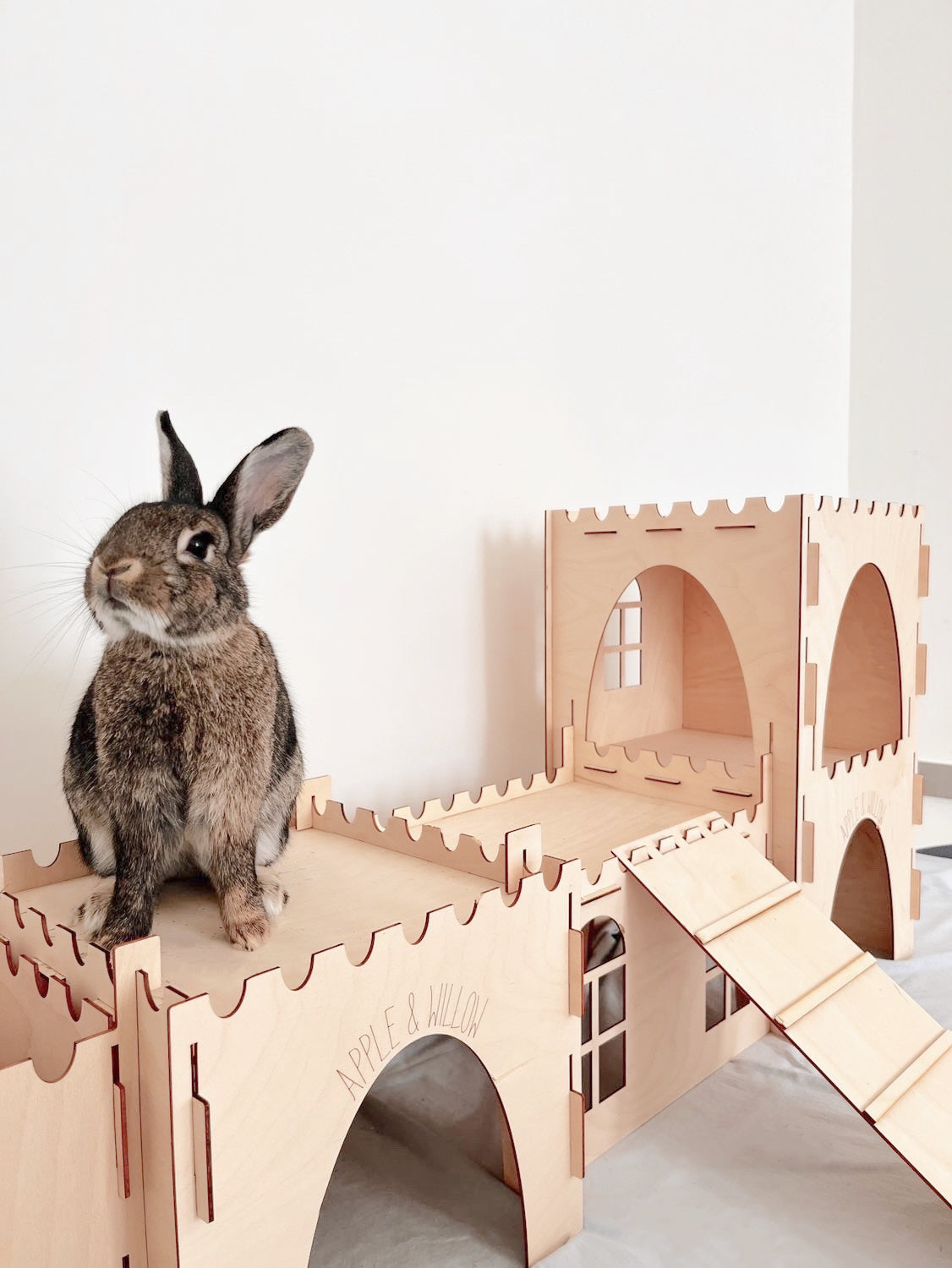 Great fun for the bunnies
Really secure and my rabbits love it a lot! Definitely purchase if your rabbits love exploring and also provides them with great areas to sleep
Amazing Thankyou! Walter and Mabel love their new castle
Fort Collection
Everything has turned out to be a big hit! due to the size of the area we haven't been able to set it all up together as one but it is working really well in different areas and it is used constantly by Blossom & Chester!! I love how you can adapt the different compartments to how you want it to work rather than trying to make the space fit around the fort, thank you :D
Bunnies love it!
Easy to put together, cute design amazing quality, and perfect size! My two new house bunnies love it . Thankyou :)
Order not received
I would love to review if had received anything yet.
FAQs
How do I build your items?

Our items come flat packed and can be assembled with no tools, simply slot the pieces together! It takes less than 2 minutes. They can then be disassembled for convenience when moving or for storage.
Will my pet use your castles?

Designed with small pet psychology in mind, our products have been thoughtfully designed and created so they very well loved and used by bunnies and pets! You will find as soon as they have one of our castles it becomes their new favourite place to hang out.

As small pets like bunnies are prey animals, having two entrances/exits is key to ensure bunnies feel safe inside- and it will become their go to space for eating and sleeping!
Can they easily chew the castles?

Our castles are made from birch plywood which is resistant to bunstruction- so even if bunnies have a good munch it may leave some marks, but the structure of the castle will not be affected. You can see our many reviews from customers who have owned our castles for many years!

Our birch wood is untreated and paint free making it completely pet safe.
Can you clean the castles?

As our wood is untreated to keep it pet safe, it is harder to clean if a bunny has an accident on it. However, we sell machine washable cushions perfect for the top of the castles to prevent any permanent stains!
What starter products do you recommend?

We recommend purchasing one of our single or double storey castles (personalised for some extra cuteness) with a cushion for a first time bun trying out our products!

This will give your bun time to see if they love their castles- which we guarantee they will, while also providing some protection to the wood with our cushions and giving extra comfort.

In future you can then purchase castles or tunnels to add on to your castle and build up your fort.

We would also always recommend for any first time customer trying out our best selling stacking cups- they are one of our most popular products for a reason, buns love them! They are one of the best toys for enrichment to enhance your buns meal times.